Defqon.1 Festival 2013: De line-up en anthem
Q-Dance heeft vandaag de line-up vrijgegeven van Defqon.1 Festival 2013, samen met het anthem gemaakt door Frontliner. Het festival wordt gehouden van 21 tot 24 juni op evenemententerrein Walibi. Lees hier alle informatie. 
Alle informatie is op de Defqon.1 website te vinden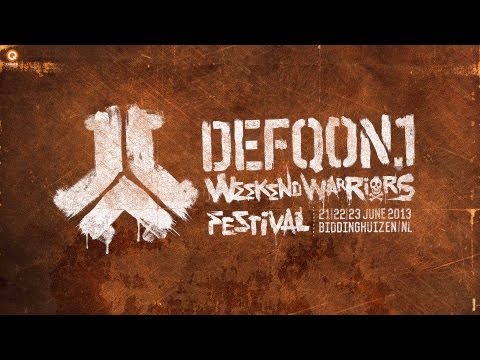 De line-up van Defqon.1 Festival 2013
Vrijdag
Red (The Gathering)
Frontliner
Headhunterz
Zatox
MC: Villain
Zaterdag
Red
Adaro
Brennan Heart
Code Black
Endymion
Evil Activities
Frontliner
Luna
Noisecontrollers
Pavo
Pila
Psyko Punkz
Ran-D
Wasted Penguinz
MC: Villain

Purple
Amada
Bass Chaserz
D-Droned
Demolite
Emperador
Festuca
Juized
Kamikaze
Silver Nikan
Tartaros
MC: Shizzler
Orange
Chuck-E
F&E
Fausto
Jim Justice
Kutski
Lee Mac
Wragg
Xdream
MC: Shocker

White
ACTI
Donnie Darko
Etnik
Eyoung
Mightyfools
Organ Donors
MC: Tjek

Silver
Bong-Ra
Detest
Dither
Dr. Peacock
Limewax
Repix
Sei2ure
Sinister Souls
Synapse
The Outside Agency
Thrasher
Live: N-Vitral
Live: Omkara Techichi
MC: Apster

Ultraviolet
Audiofreq
Bass Modulators
Fanatics
HSB
In-Phase
Josh & Wesz
Neilio
Sound Freakerz
Toneshifterz
Live: Scope DJ
MC: DL!

Blue
B-Front
Chain Reaction
Crossfire
Degos & Re-Done
Digital Punk
Frequencerz
Geck-o
High Voltage
Luna
Omegatypez
Prefix & Density
Live: E-Force
MC: DV8

Magenta
Dirtcaps
Fanny West
Gomes
Jaziah
Luca Perra
Luciën Foort
Phunky Dlight
Stranger
Weslo
MC: Sampiee

Gold
Catscan
Dream Team
Frantic Freak
Luciën Foort
Mental Theo
Pila
Predator
Ruffneck
The Viper
Yves Deruyter
MC: Da Mouth of Madness

Green
Angel
DaY-már
Dicke Junge
Dr Phunk
Dr. Rude
Mark with a K
Playboyz
Two Times Four
MC: Chucky

Black
Amnesys
Anime
Decipher
Furyan
Neophyte
Nitrogenetics
Nosferatu
Partyraiser
Shinra
Terminal
Vavaculo
Live: System Shock
MC: Jeff

Nightparty
Isaac
Max Enforcer
The Viper
Live: DV8
MC: Ruffian
Zondag
Red (the Closing)
Coone
Gunz for Hire
Wildstylez
MC: Villain
Blue
Activator
Alpha²
Artic
Deepack
Dillytek
Hard Driver
Jack of Sound
The Prophet
Live: DV8
Live: The R3belz
White
Argy
Geck-e
Henzel & Disco Nova
Stana
The Oddword
MC: Tjek
Black
Dyprax
Mad Dog
Noize Suppressor
Ophidian
Prankster
Promo
Tommyknocker
Live: Art of Fighters
MC: Jeff
Magenta
Alpha²
Balistic
Beholder
Jones
Luna
Pila
The Prophet
Toyax
MC: Shizzler
Gold
Bass-D
Buzz Fuzz
Critical Mass
Dano
Gizmo
Hard Creation
Paralizer
Vince
Live: G-Town Madness
Live: MD&A
MC: Da Mouth of Madness
Ultraviolet
Adrenalize
Da Tweekaz
James Bayliss
Outlander
Stephanie
The Strangerz
Waverider
Xdream
Live: Atmozfears
MC: DL!
Volg Hardtraxx op Twitter
twitter.com/Hardtraxx
en op Facebook:
facebook.com/Hardtraxx