Matrixx presenteert line-up Emporium – Land of the Rising Sun
Op zaterdag 30 mei zal De Berendonck worden omgetoverd tot het machtige en spirituele Japanse rijk. Verdeeld over 9 stages met klinkende namen als Samurai, Koi, Yakuza, Sumo en Bonsai Garden zullen de grootste artiesten uit binnen- en buitenland alle verschillende stijlen binnen de dance ten gehore brengen. Matrixx presenteert daarom met trots de line-up van Emporium – Land of the Rising Sun.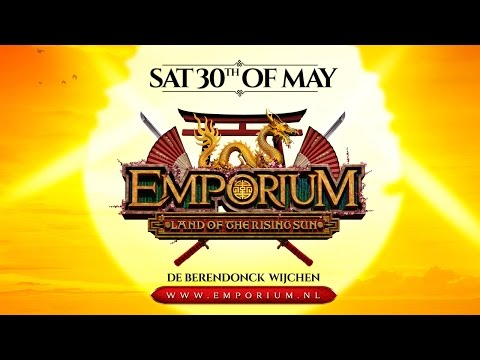 Emporium – Land of the Rising Sun heeft naast prachtige Japanse decors en stages weer een killer line-up met als Keizer de Japans-Amerikaanse headliner Steve Aoki, de Zweedse sensatie van het moment Galantis met de hit 'Runaway' (U & I), Ummet Ozcan als maker van het officiële Emporium Anthem 'Kensei', het Franse productiekanon Michael Calfan, de Amerikaanse zwaargewicht Carnage, van 'Down Under' Timmy Trumpet en de Nederlandse crème de la crème als Brennan Heart, FeestDjRuud, Frequencerz, The Partysquad, Eelke Kleijn, Vato Gonzalez, RAM, Mike Mago en nog veel meer!
Check hier de volledige line-up:
Emperors Palace – Area 1 Mainstage
Steve Aoki
Ummet Ozcan
Galantis
Carnage
Bassjackers
Jay Hardway
Timmy Trumpet
Indyana
Hosted by Ambush & Marboo
Bonsai Garden – Area 2 Crossover
The Partysquad
FeestDJRuud
Mightyfools
TWRK
Dirtcaps
Girls Love Dj's
Dyna
Wiwek
Boehmer
Styles
Hosted by May
Geisha – Area 3 Trance / Progressive
Ørjan Nilsen
Airscape
RAM
Sneijder
Matt Bukovski
Mark Sixma
Alexander Popov
Simon O'Shine
Marc Simz
Fisherman & Hawkins
Hosted by Da Silva
Origami – Area 4 Deephouse, Techhouse & Techno
2000 and One & Ici Sans Merci
Dimitri
Tapesh
Eelke Kleijn
De Sluwe Vos
Mike Mago
De Hofnar
Keljet
Hosted by Boogshe
Koi – Area 5 House / EDM
Michael Calfan
Vato Gonzalez & MC Tjen
Billy the Kit
La Fuente
Tony Junior
TV Noise
Julian Calor
Mike Hawkins
Maria Helena
Artistic Raw
Hosted by Mitch Crown & Iceman
Yakuza – Area 6 Hardcore
Partyraiser
Tha Playah
Mad Dog vs Noize Suppressor
Evil Activities
Miss K8
Art of Fighters
Nosferatu
Live: Dr. Peacock
Dyprax
X-Cite
Synthax
Crossfiah
Hosted by Jeff
Samurai – Area 7 Hardstyle
Frontliner
Frequencerz
Brennan Heart & Code Black
Noisecontrollers
Da Tweekaz
Wasted Penguinz
Bass Modulators
Live: Hard Driver
Max Enforcer
Noisecult
Juized & Envine
Hosted by Villain
Sumo – Area 8 Freestyle
Neophyte
Mental Theo
Audiofreq & Kutski
The Darkraver
Mark with a K
The Prophet
Dr. Rude
Balistic
Outsiders
Devon K.
Hosted by Alee
Tokyo Manga – Area 9 Raw Hardstyle
Live: Mean Machine (Zany vs The Beholder)
B-Front
Live: Titanomachy
Chain Reaction vs Tartaros
The Geminizers vs The Machine
Warface
Thera vs Jason Payne
Phuture Noize
Dark Pact
Shellshock
Artifact
Sub Sonik
Hosted by DL
Tickets
Kaarten voor Emporium – Land of the Rising Sun zijn net als vorig jaar via www.emporium.nl verkrijgbaar voor €55,- (ex fee). Wil je genieten van een zorgeloze reis naar en van Emporium? Bestel dan je busreis met entree ticket via www.eventtravel.nl.
Info
Meer informatie en updates vind je op de volgende pagina's:
www.Emporium.nl,
Facebook,
Twitter
#EMP15.
Volg Hardtraxx op Twitter
twitter.com/Hardtraxx
en op Facebook:
facebook.com/Hardtraxx