Q-dance presenteert: De Hardstyle Top 40 van oktober 2013
De maand oktober is bijna ten einde. Een hele drukke maand waarin veel is gebeurd. De uitreiking van de DJ Mag Top100 tijdens de ADE (Amsterdam Dance Event), waarin de honderd meest populaire Dj's vermeld staan. De lijst liet blijken dat Hardstyle slechts in zijn kinderschoenen staat en er nog heel  te verwachten is. Deze maand was het ook tijd voor de Q-dance Harder Styles Top 1000. Een unieke samenwerking tussen radio en alle trouwe muziek liefhebbers waarin de beste duizend nummers op een rijtje zijn gezet.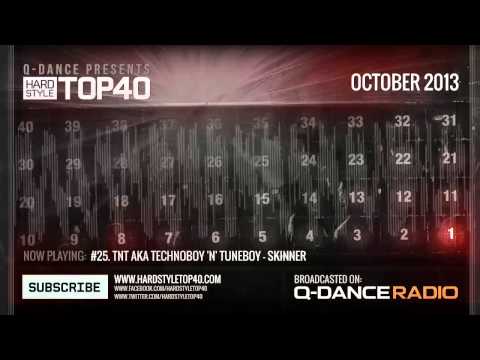 Ook de Hardstyle Top 40 heeft niet stilgezeten en komt deze maand met veel nieuwe muziek. Zo was er afgelopen maand veel vraag waarom "Imaginary" niet te vinden was in de lijst. De reden was dat deze pas recent was uitgebracht echter mag dit de pret voor Brennan Heart niet drukken. Deze maand is hij namelijk nieuw binnen gekomen op de eerste plaats. Onze nummer één van afgelopen maand, "Headhunterz Feat. TATU – Colors", zakt deze maand vier plaatsen naar de vijfde plek.
Deze maand hebben we wederom ook enkele nieuwkomers in ons midden. The Geminizers van het "Magic Show" label zijn voor het eerst in de Hardstyle Top 40 te vinden. Ze komen nieuw binnen in de lijst op nummer achtendertig. Buiten deze twee heren heeft het label nog één van zijn heren in de lijst weten te krijgen. Juized weet met zijn samenwerking met Rebourne het maar liefst tot de negenentwintigste plaats te schoppen.
Ook jouw stem telt!
Denk eraan dat ook jouw stem telt! Breng je stem uit op je favoriete nummer via www.hardstyletop40.com en deel het met je vrienden. Laat ons weten wat jij vindt en praat mee via onze social media.
#QDRadio of #HSTOP40.
De Hardstyle Top 40 van oktober 2013:
1. Brennan Heart and Jonathan Mendelsohn – Imaginary (Original Mix)
http://www.beatport.com/track/imaginary-original-mix/4720758 
2. Wild Motherfuckers – Wild Wild West (Original Mix)
http://www.beatport.com/track/wild-wild-west-original-mix/4689744 
3. Wildstylez featuring Cimo Fränkel – Lights Go Out (Extended Mix)
http://www.beatport.com/track/lights-go-out-feat-cimo-frankel-extended-mix/4725850 
4. Hardwell and Dyro featuring Bright Lights – Never Say Goodbye (Wildstylez Remix)
http://www.beatport.com/track/never-say-goodbye-feat-bright-lights-wildstylez-remix/4657878 
5. Headhunterz Feat. TATU – Colors (Extended Mix)
http://www.beatport.com/track/colors-feat-tatu-extended-mix/4660864 
6. Wasted Penguinz – Raindropz (Original)
http://www.beatport.com/track/raindropz-original/4700437 
7. Brennan Heart – F.I.F.O. (Original Mix)
http://www.beatport.com/track/f-i-f-o-original-mix/4653009 
8. Coone featuring Chris Madin – Our Fairytale (Theme Of Tomorrow 2013) (Original)
http://www.beatport.com/track/our-fairytale-theme-of-tomorrow-2013-feat-chris-madin-original-mix/4680012 
9. Code Black – I.N.C.O.N.T.R.O.L. (Original Mix)
http://www.beatport.com/track/i-n-c-o-n-t-r-o-l-original-mix/4689741 
10. Wild Motherfuckers – Ruby Rain (Original Mix)
http://www.beatport.com/track/ruby-rain-original-mix/4689745 
11. Gunz For Hire – The Massacre (Original Mix)
http://www.beatport.com/track/the-massacre-original-mix/4610096 
12. Ran-D – I Need You (Original Mix)
http://www.beatport.com/track/i-need-you-original-mix/4610038 
13. Fedde Le Grand and Nicky Romero featuring Matthew Koma – Sparks (Turn Off Your Mind) (Atmozfears & Audiotricz Remix)
http://www.beatport.com/track/sparks-turn-off-your-mind-feat-matthew-koma-atmozfears-and-audiotricz-remix/4506791
14. Wildstylez and Max Enforcer featuring Frankie McCo – Lose Control (Original Mix)
http://www.beatport.com/track/lose-control-feat-frankie-mccoy-original-mix/4734524 
15. Zany & Frequencerz – Quakers (Original Mix)
http://www.beatport.com/track/quakers-original-edit/4431836 
16. Artic & Desnar ft. Xaline – The Warriors (Original Mix)
http://www.beatport.com/track/the-warriors-original-mix/4738288 
17. Toneshifterz – Power of Emotion (Original Mix)
http://www.beatport.com/track/power-of-emotion-original-mix/4675041 
18. DJ Phil TY – A Kay A (Da Tweekaz Remix) (Extended Version)
http://www.hardstyle.com/dj-phil-ty/a-kay-a-da-tweekaz-remix/extended-version 
19. Hard Driver and Mc DL – The Hunter (Original)
http://www.beatport.com/track/the-hunter-original/4713073 
20. Adaro – History (Original Mix)
http://www.beatport.com/track/history-original-mix/4738287 
21. Dj Stephanie – Karma's A Bitch (Extended Version)
http://www.hardstyle.com/dj-stephanie/karmas-a-bitch/extended-version 
22. Zany & B-Front – Redeeming Light (Dream Village 2013 Anthem) (Original Mix)
http://www.beatport.com/track/redeeming-light-dream-village-2013-anthem-original-mix/4678398 
23. Alpha² – Kick Back (E-Force Remix)
http://www.hardstyle.com/alpha/kick-back/e-force-remix 
24. Slim Shore & Focuz feat. DV8 Rocks! – Broken Dreams (Original Mix)
http://www.beatport.com/track/broken-dreams-feat-dv8-rocks!-original-mix/4751311 
25. TNT Aka Technoboy 'N' Tuneboy – Skinner (Extended Version)
http://www.hardstyle.com/tnt-aka-technoboy-n-tuneboy/skinner/extended-version 
26. Psyko Punkz – Trippy Hippie feat. Murda (Original Mix)
http://www.beatport.com/track/trippy-hippie-feat-murda-original-mix/4640144 
27. Digital Punk & Frequencerz ft. Mc Nolz – We don't give a F_ck (Original Mix)
http://www.beatport.com/track/we-dont-give-a-f-ck-original-mix/4756272 
28. Crypsis – Break Down Low (Original Mix)
http://www.beatport.com/track/break-down-low-original-mix/4505222 
29. Juized & Rebourne – Sanctuary (Original Mix)
http://www.beatport.com/track/sanctuary-original-mix/4710077 
30. Coone featuring K19 – Times Gettin' Hard (Original)
http://www.beatport.com/track/times-gettin-hard-feat-k19-original-mix/4574279 
31. Noisecontrollers – Feel So Good (Original Mix)
http://www.beatport.com/track/feel-so-good-original-mix/4524394 
32. Nicky Romero – Legacy (Wildstylez Remix)
http://www.beatport.com/track/legacy-wildstylez-remix/4611754 
33. Ran-D – The Twilight Zone (Q-Base 2013 OST) (Original Mix)
http://www.beatport.com/track/the-twilight-zone-q-base-2013-ost-original-mix/4640220 
34. Outbreak – Survival (Original Mix)
http://www.beatport.com/track/survival-original-mix/4734640 
35. The Machine – The Forsaken Lands.. (WiSH Outdoor 2013 Anthem) (Original Mix)
http://www.beatport.com/track/the-forsaken-lands-wish-outdoor-2013-anthem-original-mix/4673555 
36. B-Front and Frequencerz – Delusion (Original Mix)
http://www.beatport.com/track/delusion-original-mix/4751309 
37. Psyko Punkz – Love This Life
http://www.beatport.com/track/love-this-life-original-mix/4438158 
38. The Geminizers – Eternal Bliss (Original Mix)
http://www.beatport.com/track/eternal-bliss-original-mix/4691632 
39. Technoboy & Isaac – Digital Playground (Extended Version)
http://www.hardstyle.com/technoboy-isaac/digital-playground/extended-version 
40. Toneshifterz – R.A.W. Power (Original Mix)
http://www.beatport.com/track/r-a-w-power-original-mix/4734356
Meer informatie over de Hardstyle Top 40:
www.hardstyletop40.com 
www.twitter.com/hardstyletop40 
www.facebook.com/hardstyletop40 
www.youtube.com/user/hardstyletop40 
www.soundcloud.com/qdance      
Volg Hardtraxx op Twitter
twitter.com/Hardtraxx
en op Facebook:
facebook.com/Hardtraxx